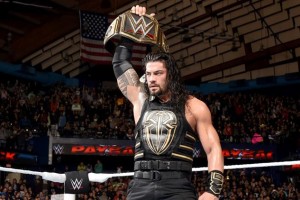 First, during the Tag Team Tournament Finals Match between The Realest Guys in the Room (Enzo Amore & Colin Cassady) and The Vaudevillains to determine the #1 contenders to the WWE Tag Team Championship, an unfortunate incident happened. Not too long into the match, Enzo Amore's head bounced off the middle rope and then the back of his head hit the ring apron causing some severe damage, which caused the referee to throw the match out. Enzo ended up having to be stretchered out of the arena and taken to a local medical facility; he was diagnosed with a concussion, but fortunately, all other tests came back negative. I would like to point out that this injury is not a storyline injury, Enzo really got hurt. It is very unfortunate that the match had to end under these circumstances, but it just goes to show that injuries can happen at any given time. We definitely wish Enzo a speedy recovery.
There is also the match between Sami Zayn and Kevin Owens. After Owens beat Zayn fair and square, Owens tarnished that by attacking him after the match. Owens then insisted that Byron Saxton get up from the commentators' table and come into the ring and interview him. When Byron brought up the upcoming Intercontinental Championship Match between champion The Miz and challenger Cesaro, Owens decided to invite himself on commentary during the match. At one point during the match, Sami Zayn came out to retaliate for Owens' post-match attack from earlier. Then, just when Cesaro had Miz beat by forcing The Miz to submit; unfortunately, Zayn and Owens brawled up to the ring apron, which diverted the referee's attention. After Cesaro knocked both men off the apron, this allowed Miz to rollup Cesaro and hook his trunks to get the tainted victory. After the match, all four men got into a post-match brawl with one another. Owens was the one left standing in the end, holding up Miz's championship in the process. After seeing all of that, I knew this would set up for a potential championship match involving these four men.
Next, there is the WWE Women's Championship Match between champion Charlotte and challenger Natalya. Since Charlotte has been having her 2-time WWE Hall of Fame father Ric Flair interfere in every single one of her matches, Natalya decided to have her WWE Hall of Fame uncle Bret "The Hitman" Hart in her corner for this one. The match ended up going without any shenanigans up until the end. What happened was Charlotte locked Natalya in Natalya's own signature submission hold, the "Sharpshooter", and once it was locked in, referee Charles Robinson called for the bell to be rung even though Natalya never submitted. This is reminiscent of what happened to Bret Hart in 1997 at Survivor Series in which has been referred to as the "Montreal Screwjob". Both Bret and Natalya knew this, so they made both Ric and Charlotte pay by giving them post-match Sharpshooters. If anybody knows their history, then they should know that Charles Robinson is a longtime friend of the Flair Family. Not only that, but Charles was also once the crooked referee for Ric Flair back in the days of WCW. I think it is clear that since both Ric and Charlotte knew that Natalya would have her uncle Bret in her corner, they had to come up with a plan B for Charlotte to weasel her way into retaining her championship, which was pay off Charles Robinson to screw Natalya over.
Then, WWE Chairman Mr. McMahon made the decision of who was going to permanently be running WWE's flagship show Monday Night Raw; it would either be his son Shane or his daughter Stephanie. After both Shane and Stephanie made their cases, it was clear that the WWE Universe wanted Shane to be the man in charge. In a shocking twist, however, Mr. McMahon decided that both Shane and Stephanie would run Raw, telling them that they could either "slit each other's throats or it could be a collaborative effort". Well, at least we now know that Shane is running Raw, so there is still hope for the WWE Universe.
Finally, there is the WWE World Heavyweight Championship Match between champion Roman Reigns and challenger AJ Styles. At one point during the match, while both men were outside of the ring, Styles tried to roll Reigns' dead carcass back into the ring, but could not do so. Therefore, Styles had to settle with getting back inside the ring just to beat the ten count, which meant that he won the match, but not the championship. Fortunately, Shane McMahon came out and said that "things like this may have gone down this way in the old era, but in the "New Era", that is not how we settle things". Shane then decided to have the match restarted with there being no countouts. Then, at one point, Reigns unintentionally gave Styles a low blow, which lead to Reigns being disqualified, but still retained his championship. Refusing to be outdone by her brother, Stephanie then decided to have the match restarted with there being no countouts or disqualifications. At one point, Styles' friends Luke Gallows & Karl Anderson came out and attacked Reigns. Fortunately, Reigns' second cousins The Usos (Jimmy & Jey) came out to take care of Gallows & Anderson, making the match one-on-one again. In the end, it would be Reigns who hit Styles with his finishing move, the "Spear", to get the victory and retain his championship. Afterwards, both Shane and Stephanie agreed on making a championship rematch between Reigns and Styles in an Extreme Rules Match at the upcoming Extreme Rules event. I agreed with the decisions that Shane and even Stephanie made for all of this.
All of the things written above are what I personally feel highlighted this year's Payback. I would also like to point out that I do not think that Styles had anything to do with Gallows & Anderson coming out during his match; I think that they acted alone on that. In other words, Styles has not turned heel.