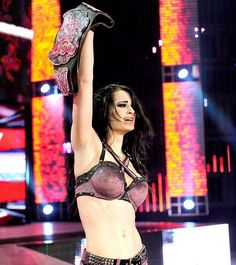 Introduction
WrestleMania 31 is in the books. The following night on Raw, the WWE Universe was still feeling the impact that was made the previous night; however, what they did not expect to feel was the impact that NXT was going to be making throughout the entire Raw show. Whether it was the original NXT that featured pros and rookies paired together or NXT, the current developmental system for WWE, this night mostly belonged to NXT.
The Wyatt Family's Mind Control?
During NXT alumni's The Wyatt Family's (Bray Wyatt, Luke Harper & Erick Rowan) Six-Man Tag Team Match against the team of John Cena, Sheamus and current Intercontinental Champion Big E, there were a lot of WWE Universe members who rallied behind The Wyatt Family. Anybody who is familiar with them knows that they are all about the mind games. Is it possible that The Wyatt Family have gained control of some of the WWE Universe members' minds? I guess only time will tell. I should also point out that The Wyatt Family was victorious in this match.
Emma Continues to "Emmaze"
NXT alumnus Emma recently arrived on the main roster. Ever since, she has impressed people with her in-ring skills and continues to do so. After having her very-first WrestleMania match the night before, the following night on Raw, Emma teamed up with Santino Marella to take on the dancing duo of Fandango and Summer Rae in a Mixed Tag Team Match. In the end, Emma picks up the victory for her team when she forces Summer to submit to the Emma-Lock. I think that things will just continue to get better for Emma.
Bad News Barrett Returns to Action
After months of appearing on a podium to deliver "bad news" to the WWE Universe on a regular basis, NXT Season 1 Winner Bad News Barrett finally got back into the ring. He went one-on-one with former World Champion Rey Mysterio. The former Intercontinental Champion proved that he had not lost a step when he beat Mysterio in typical ugly fashion. Whether or not this is "bad news" for the WWE Universe, it just depends on how they look at it; but one thing is for sure, it is certainly "bad news" for all the other guys in the WWE locker room.
Alexander Rusev Arrives
For months, NXT Alumni Alexander Rusev and his social media ambassador Lana have been delivering messages to the WWE Universe. In his very first Raw match, Rusev (w/ Lana) went one-on-one with former United States Champion Zack Ryder. Ryder put up a valiant effort; but in the end, Rusev's power was just too much for him to overcome as Rusev forced Ryder to submit to his hold. On this night, Rusev and Lana backed up their claims, but will they be able to continue to do so? Only time will tell.
Paige Makes History
After successfully defending her WWE Divas Championship in controversial fashion the night before, AJ Lee addressed the WWE Universe about how she is the longest-reigning Divas Champion in history, the "Savior of the Divas Division", and that no diva on the roster has been able to beat her for the championship. Then, all of a sudden, current NXT Women's Champion Paige comes out to congratulate AJ on her success; however, instead of thanking Paige, AJ takes exception to her coming out and standing in the same ring as her. Despite Paige's attempt to assure AJ that she is not looking for any trouble, AJ knocks Paige to the mat and issues an impromptu Divas Championship Match to her. Just when it looks like AJ is about to finish Paige off with her Black Widow submission maneuver; out of nowhere, Paige counters and hits AJ with her finisher the Paige Turner to get the pin and the win and become the new Divas Champion. Regardless of whether or not Paige was ready for this
match, the fact of the matter is that AJ underestimated her. On this night, Paige made history by becoming the youngest WWE Divas Champion in history. In addition to that, she is also the first woman to hold both the WWE Divas and NXT Women's Championship, as well as the first woman to hold both championships simultaneously. I think people can expect huge things from this multi-generational superstar.
Cesaro Switches Allegiances
After winning the Andre the Giant Memorial Battle Royal at WrestleMania, the following night on Raw, NXT Alumnus Cesaro was presented with the Andre the Giant Memorial Trophy by WrestleMania 30 Host and WWE Hall of Famer Hulk Hogan. During Cesaro's acceptance speech, his manager Zeb Colter cut in and took credit for all of Cesaro's success and declared him a "Zeb Colter Guy". Then, Cesaro grabbed the mic from Colter and told him that he actually is not a "Zeb Colter Guy", but that he is a "Paul Heyman Guy". After Paul Heyman himself came out to confirm it, Cesaro's former tag team partner Jack Swagger comes out and jumps Cesaro from behind and in a despicable, as well as disrespectful, display of action, Swagger destroys the Andre the Giant Memorial Trophy. This leads to Raw General Manager Brad Maddox making a one-on-one match between the two former partners. While I am not a fan of either one of these guys, I was rooting against Swagger. After Swagger is thrown out of the ring, Colter tells Swagger to just start heading towards the back, which gives Cesaro the win by count-out. I thought for sure Cesaro was going to turn face this night, but instead, he just ends his alliance with his fellow heels and aligns himself with another heel. Regardless, Cesaro is the newest "Paul Heyman Guy" and after getting his WrestleMania moment the night before, things appear to only be skyrocketing for Cesaro.
Two NXT Superstars Coming Soon
During the Raw after WrestleMania, vignettes were shown for two current NXT Superstars in Adam Rose and Bo Dallas. Adam Rose is the man formerly known as Leo Kruger, but has now adopted this new persona of a man who loves to throw exotic parties. As a matter of fact, in the vignette, he is seen throwing a party on a bus called "The Exotic Express". Bo Dallas is a third generation superstar; he is the younger brother of Bray Wyatt, the son of Mike "IRS" Rotunda, the nephew of WWE hall of Famer Barry and Kendall Windham, and the grandson of WWE Hall of Famer Blackjack Mulligan. While many people may not consider him the most popular superstar at this time, he has had some notable success. He actually scored an upset victory over Bad News Barrett about a year ago and he is the longest-reigning NXT Champion in history. These two guys made an impact down at NXT; now that they will be arriving on the main roster very soon, we will see if they can make as big of an impact.
Daniel Bryan and The Shield Defy Authority
NXT Season 1 Rookie Daniel Bryan not only conquered WWE Chief Operating Officer and former World Champion Triple H, but he also went on to become the new WWE World Heavyweight Champion at WrestleMania 30. The following night on Raw, Triple H announced that Bryan would be defending his newly-won championship against him later on in the main event. When the time came, former champion Randy Orton, Batista and WWE Director of Operations Kane disposed of Bryan before the match had even started. Then, Triple H (w/ wife and WWE Principal Owner Stephanie McMahon) make their way to the ring. They then order the referee to ring the bell to start the match. Just when it looks like Triple H is about to pick up the scraps that Orton, Batista and Kane left behind; all of a sudden, out come NXT alumni The Shield (current United States Champion Dean Ambrose, Seth Rollins & Roman Reigns). After a brief standoff, both Bryan and The Shield clear the ring of The Authority and Batista. The show ends with Bryan and The Shield standing tall. I think that The Authority may very well be falling apart before our very eyes; I certainly hope so.
Conclusion
This just proves that anything can happen the night after WrestleMania. I would also like to point out two non-related NXT things that happened. One was the long-awaited return of former World Champion Rob Van Dam, who was victorious over Damien Sandow. Also, new WWE Hall of Famer The Ultimate Warrior appeared on Raw for the first time in 18 years to give what would turn out to be his final address to the WWE Universe because the following day, he shockingly passed away. I certainly feel grateful that I got to see The Warrior live for the moments he had on his last 3 days here on Earth; he will no doubt be missed very much by all.  Besides those two moments, I would say that this night was definitely all about new stars emerging from NXT. This just goes to show you how big of an impact NXT has had on the WWE and will continue to do so.