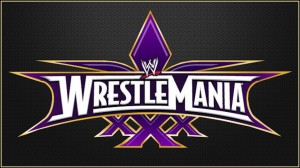 John Cena
Vs.
Bray Wyatt (w/ Luke Harper & Erick Rowan)
Bray Wyatt does not care about winning or losing at WrestleMania, all he wants to do is destroy the great legacy that John Cena has built. Despite the fact that Wyatt will have Harper & Rowan lurking at ringside, I am still convinced that Cena will be victorious. The reason I think that this will be the case is because the match is all about Cena defending his legacy and Wyatt destroying it and I cannot see Cena allowing that to happen. Also, this will mark the first time ever that Cena will not be competing in one of WrestleMania's main event matches. This will also mark the first-ever WrestleMania match for Bray Wyatt.
The Winner Enters the WWE World Heavyweight Championship Match
Daniel Bryan
Vs.
WWE Chief Operating Officer Triple H
This is a match that will not only settle a personal grudge between two of WWE's top stars, but it will also determine which one of the two will be added to the WWE World Heavyweight Championship Match between Champion Randy Orton and Challenger Batista later on in the night; thus, becoming a Triple Threat Match for the championship. Ever since last year's SummerSlam, all three members of WWE's most powerful family, the McMahon Family (Mr. McMahon, Stephanie McMahon, and Triple H), have had it out for Daniel Bryan. They have been doing everything in their power to keep or take WWE's top prize away from Bryan. Well, at WrestleMania this Sunday, that all comes to an end because Bryan will conquer Triple H and move on to the championship match.
Main Event #1
The Phenom vs. The Beast
The Undertaker
Vs.
Brock Lesnar (w/ Paul Heyman)
The Undertaker is 21-0 in his matches at WrestleMania. This Sunday at WrestleMania 30, he goes for 22-0 against Lesnar. Every superstar that has tried to break Undertaker's undefeated streak at WrestleMania has failed to do so; as a matter of fact, a few have even failed more than once. A lot of these guys gave Undertaker a serious run, but still could not get the job done. There is no doubt that Lesnar will give him a hell of a run and you can bet that Heyman will be lurking around ringside, as well. Despite all of this, I am still convinced that The Undertaker will be 22-0 come this Sunday at WrestleMania. As a matter of fact, if Undertaker's own half-brother Kane failed (twice I might add), then I am not sure anybody will ever be able to break the streak.
Main Event #2
Triple Threat WWE World Heavyweight Championship Match
Randy Orton (C)
Vs.
Batista
Vs.
Daniel Bryan or Triple H
Batista had won this year's Royal Rumble Match; thus, becoming the #1 contender to the WWE World Heavyweight Champion at WrestleMania 30. This match was originally set to be one-on-one; however, there were many members of the WWE Universe that not only demanded a one-on-one match between Daniel Bryan and Triple H at WrestleMania, but also to add Bryan to the championship match if he were to win his match against Triple H, as well.  Eventually, The Authority had no other choice but to give in to those demands. Just when people thought nothing could get any bigger, Triple H shocked both Orton and Batista when he told them, as well as the entire world, that if he wins against Bryan, then he will add himself to the championship match. I personally think that Triple H made this decision because he is beginning to lose faith in Orton as the current "Face of WWE" and Batista as the potential "Face of WWE". Perhaps Triple H is starting to realize that if he wants something done right, then he needs to do it himself. As I stated earlier, I think that Daniel Bryan will not only conquer Triple H, but he will also go on to become the new champion and finally put an end to The Authority's reign of terror once and for all. Also, I think it would be pretty awesome if both Daniel Bryan and his fiancé Brie Bella would be standing in the middle of the ring as the new WWE World Heavyweight Champion and WWE Divas Champion, respectively, during the post-match celebration and end the show with that scene.