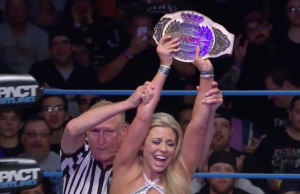 Rockstar Spud and Ethan Carter III finally go one-on-one.
Taryn Terrell holds the TNA Knockout Women's Championship for at least most of the year.
The Hardys win the TNA World Tag Team Championship for the first time ever.
Kurt Angle gets back in the ring.
Gail Kim goes into the TNA Hall of Fame.
Lashley finally leaves MVP & Kenny King.
Gunner finally becomes TNA World Heavyweight Champion.
HAVOK suffers her first pinfall/submission loss in TNA.
Rhino returns.
Low Ki wins the one championship from TNA that has eluded him, the TNA World Heavyweight Championship.
…