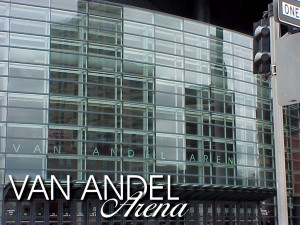 Last night, I was in attendance at the Van Andel Arena in Grand Rapids, MI for WWE Live. This event was not televised, but one of the best things about that is that something newsworthy can happen that a lot of people do not get to see.
Two Divas Switch Roles
Summer Rae and The Funkadactyls (Naomi & Cameron) teamed up against Layla, Eva Marie and Rosa Mendes; therefore, this means that Summer Rae is now a face and Eva Marie is now a heel. What began as a dance-off ended up turning into a Six-Diva Tag Team Match. In the end, Summer and The Funkadactyls were victorious.
Dancing Confidently
It would appear that Cody Rhodes has regained his confidence to team up with his half-brother Goldust once again because they teamed up against WWE Tag Team Champions The Usos (Jimmy & Jey) and Wyatt Family members Luke Harper & Erick Rowan in a Triple Threat Match for the The Usos' Championships. While I am a fan of both The Usos and The Rhodes Brothers, I was rooting for The Usos to win this one. I would also like to point out that during the match, both The …